Reported exchange comes after Ethiopian Airlines crash and Trump's tweet that 'planes are becoming too complex to fly'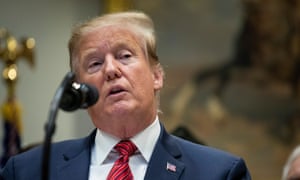 Tuesday evening summary:
Democratic representatives reintroduced the Journalist Protection Act, which would make it a federal crime to threaten, intimidate or attack reporters. The announcement included rebukes of Trump's rhetoric against the press and others who have followed his example.
A Senate committee will hold hearings to investigate the fatal Ethiopian Airlines crash that killed all 157 people onboard, hoping to shed light on any issues with Boeing's 737 Max planes. Representatives have called for the planes used by many airlines in the US to be grounded, as they have been in several other countries.
Beto O'Rourke is expected to declare his 2020 candidacy this week.
More than a dozen Republican Senators headed by Utah's Mike Lee, introduced a bill today that seeks to reign in executive branch authority to issue emergency declarations without Congressional approval.
"If Congress is troubled by recent emergency declarations made pursuant to the National Emergencies Act, they only have themselves to blame. Congress gave these legislative powers away in 1976 and it is far past time that we as an institution took them back. If we don't want our president acting like a king we need to start taking back the legislative powers that allow him to do so," Lee said in a statement.
Inbox: Mike Lee introduced the ARTICLE ONE Act to take back legislative powers given to the exec. branch by the National Emergencies Act of 1976.

The bill would automatically end emergency declarations after 30 days unless Congress voted affirmatively to extend the emergency.

— Kyle Griffin (@kylegriffin1) March 12, 2019
Under the current law, to block an emergency declaration Congress has to pass a resolution. The proposed legislation would require Congressional extensions after 30 days for a declaration to continue.
The new bill would not apply to Trump's border wall declaration and the New York Times reports it was devised as a way to garner support for the president's plan.
Per the Times:
And one of the Republicans who said he favored the resolution of disapproval, Senator Thom Tillis of North Carolina, appeared to be wavering, according to multiple people at the policy lunch. Without him — and barring any other defections — the resolution would fail to reach the president's desk.
'If you would have asked me before this lunch then I would have said, in the Senate, the president is going to lose,' said Senator John Kennedy, Republican of Louisiana, who opposes the resolution. 'But I'm not so sure now. A lot of people are trying to think of a way to express their support for the president, but at the same time express their concern' about ceding too much power to the White House.
While Mr. Lee's bill would not retroactively apply to Mr. Trump's border emergency declaration, it would give Senate Republicans cover — and offer their only chance of defeating the House resolution by easing concerns that a future Democratic president could take advantage of the precedent set by Mr. Trump".
US prosecutors are officially investigating allegations of ballot fraud in North Carolina congressional race, The Washington Post confirmed today.
A federal grand jury issued subpoenas to former Republican candidate Mark Harris's lawyer this month, along with officials at the north Carolina State Board of Elections, calling for documents connected to the 9th Congressional District race held in November.
Per the Washington Post:
The federal subpoenas come less than a month after state election officials tossed the November results in the 9th District after finding that Dowless orchestrated a "coordinated, unlawful, and substantially resourced absentee ballot scheme" last year to illegally collect, forge and possibly discard other voters' mail-in ballots.
Officials also accused Dowless of hiding evidence of the operation as it unfolded and obstructing the state's investigation after the election".